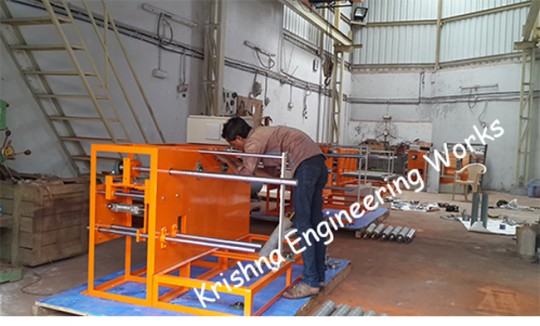 Krishna Engineering Works is one of the leading Manufacturers, Exporters and Suppliers of Plastic Packaging & Converting, Textile Processing, Paper Industries, and Tyre – Cord & Technical Textiles Machinery from India. We provide a whole range of products & machineries for all the industries that can be used from inception of raw material to the end product / output for the customer.
Our company incorporated by experts having vast experience of 25 years in the Engineering industries of Plastic Packaging – Converting, Textile Processing and Tyre – Cord machineries. Our founders have a deep technical & marketing knowledge in these industries. The company takes regular participation in national, international conference, exhibitions, etc. to continuously update itself with latest technological advances and make available to the market our latest products.
The advisory technical committee of the company consists of various experts from CIPET & other prestigious institutes so that the company is continuously upgraded with new technological developments and the machines are made of latest technological developments. This expertise for the machines allows our customer to produce maximum output with minimum cost & maintenance. Krishna Engineering Works provides import substitute technology for the industries and also we tie up with International companies and also engage in Joint Ventures to produce premium quality machines.
We are successful manufacturers of above machineries with great performance & quality assurance with customer satisfaction. We confirm the assurance of the quality of machineries and its components as they are being manufactured in our own factory, which is well equipped with all necessary top quality technically skilled personnel, raw materials & machineries. From raw materials to finished components are carried out up to final stage of assembly with total inspection to ensure export quality. Also in the final stage of the machine, continuous trial is taken to satisfy ourselves before being dispatched to our customers. We use state of the Art Technology with computerized drawing designs.
Our focus is not only on order fulfillment but also promoting a cordial relation with our customers forever to get the best results with installation and after sales services. Thus, our primary focus is customer satisfaction with long-term relationship. We rest assure that all orders would be executed with full satisfaction. We would like to request you to register our name as a leading manufacturer of above machineries and send us your valuable inquiries and orders.
Looking forward to hear from you to initiate a long-term and satisfying relationship.
Vision :
"KRISHNA ENGINEERING WORKS" is one of the Leading Manufacturers & Exporters of Flexible Packaging, Converting, Textile Processing & Printing & Tyre-Cord Machinery from India. Mr. Bharat Pathak incorporated the Company 15 years ago with vast experience of 25 Years in the field of Packaging, Textile, Paper and Tyre Cord Industry. Joining the Company in 2007, his son Vimal Pathak is an MBA & has 4 years experience travelling around every corner of the world. The company has changed its focus tremendously from Domestic to International Market since last 2 Years, which can be visible by its Exports Sales. The main objective of the company is to promote Engineering solutions with Up-to-date International Technology to Customers rather than selling Machinery.
The Company is targeting Exports up to 80% of total sales in 2009 end, which is now 45% of total sales. The main reason behind this is the focus & efforts of capturing International markets like Europe, US, Latin America etc. With due respect, the company never considers the machinery manufacturers from China & other low cost manufacturers from India as their competitors as the company's sole objective is to be competitive & more importantly superior with European, American & other International Machinery manufacturers. The results are immediately visible as the company has already exported to Europe, South East Asia, and Middle East & most importantly received applauding recommendations from European Customers, which has stringent norms & parameters for Machinery.
The Company has added advantage of its strategic Industrial location in Ahmedabad. All the suppliers are located near by the Factory premises, which give added advantage of cost effective products with continuous eye on the Quality Parameters of all the materials for the end product. The Company enjoys very healthy and friendly personal relations with all its suppliers. The Company always believes in the policy of adding members to the company's family in the form of Customers. Here also the company enjoys personal, friendly & very healthy relation with all its Customers. This is possible due to continuous feedback and prompt After Sales Service to all our customers irrespective of the value of purchase. The company gives equal attention to all Domestic as well as International Customers.
The Company's other benefit is that all the materials from Web Aligner to Rubber Rolls to Textile Spares, etc. are prepared in-house. Hence, the company's has costing & quality advantage. The company has 25 Products in Packaging & Converting category, 24 Products in Textile Category, 20 in Paper & 20 in Tyre-Cord & wants to expand more. The company offers the machinery, which can be used from inception of the raw material to end use. The company is planning to set up its own factory for production of Films, Roto Flexo Jobs, Textile Processing Unit, Paper Lamination Unit, etc. This is done to understand vigorously & perfectly regarding the day to day problems faced by customers & to make engineering solutions to resolve them. This will make the company extremely trust worthy and the customers can understand that it is always possible for a company to offer all the products under one roof, specifically when the company is always expanding its knowledge base.
Within one year of expansion, the company has already received "INTERNATIONAL QUALITY EXCELLENCE AWARD", "BHARATIYA UYDOG RATAN AWARD" & "INDIAN ACHIVERS FOR INDUSTRIAL DEVELOPMENT AWARD". These Awards & recommendations are recognition of our hard work to strive for International success by providing International Quality.